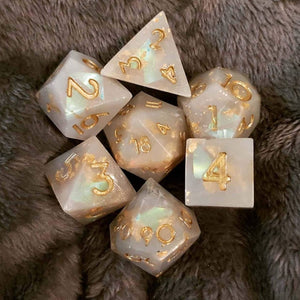 Gold Leaf Opal - Dice Set
~Each dice set is crafted uniquely by hand, making every role special, using high durability resin~
7 piece dice sets includes: 
D4 // D6 // D8 // D10 // D% // D12 // D20
Our dice are crafted in batches to maintain consistency in color and style. As each set is created and blended by hand there may be minor differences in color and look. 

If you are looking for a custom set of dice please contact us and we would love to work with you.