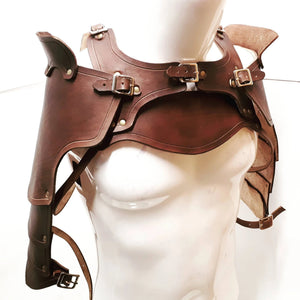 Gladiator pauldrons
"In the arena there is only one rule, survive.....well there are other rules, but they are pretty loose, just go for the groin"
This set is one complete piece but it can be take apart into three main components, the left, right, and center pieces.
Crafted from 6oz veg tanned leather, and made fully adjustable for almost any size, this armour protects your shoulders and upper chest. Multiple straps and buckles are used to give a large range of adjustments to fit your size.